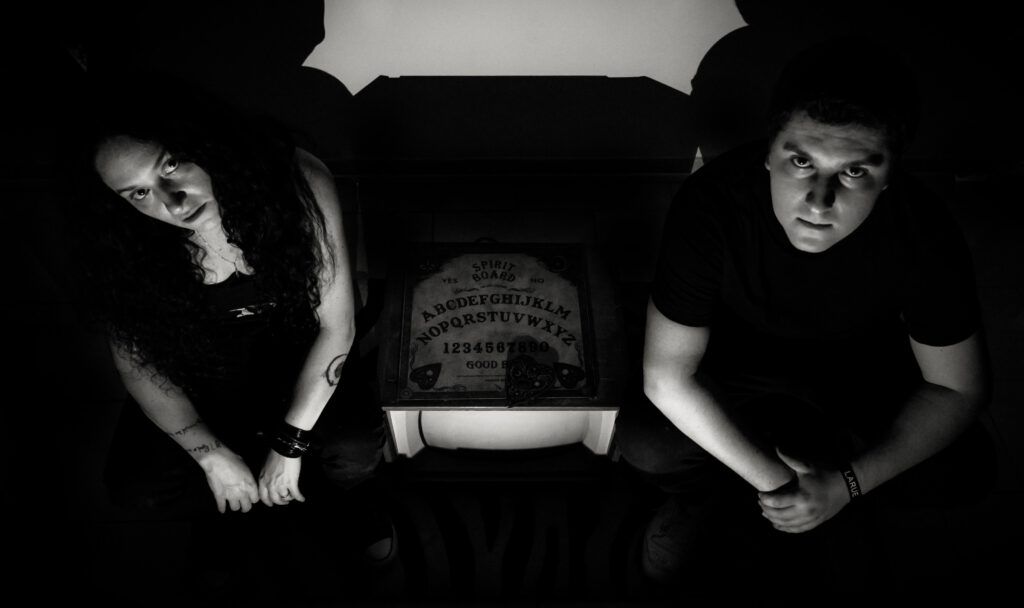 Explosive mix between rock, punk and horror movies, Mad Monsterz is a duet whose name is freely inspired by the movie "The Mad Monster".
After a long time spent looking for musicians, Nhell took up vocals, in addition to guitar, in 2016.
Paul, drummer, quickly joined the adventure, and it was in November of the same year that the first official single, "Anti Love Song (The Purge)", self-produced and coming with a music video, was released. This first production, quickly relayed by radios and podcasts (CFM 82, 6FootPlus …), is the harbinger of an unconventional sequel: Mad Monsterz will not be a stage band, but the soundtrack of a story told in comics (Mad Monsterz Tales) and videos.
This is how the character of Juste LeClown appears as a full entity of the project.
The Mad Monsterz Tales began to take shape in 2017, with the release of the second single, Mrs Claws: a mini-story out of time, illustrated by the artist Doll Irys, sets the tone for the adventures of Juste LeClown and accompanies the video clip of Mrs Claws, filmed in 360° (virtual reality) for better immersion.
The decision to add virtual reality to this universe materialized in 2018, with the release of Worse Than It, the third single highlighting the beginning of Juste LeClown's story and mixed by Guillaume who would become the sound engineer of this unconventional project.
The meeting with the artist Legoya, this same year 2018, marks the beginning of the creation of a first album (BD / CD / VIDEO), entitled Welcome to the Mad Circus, published in February 2020.
A second EP, in collaboration with several artists (Jula Bell, Karen Basset, E?teban Masa. …) then takes shape during the first Covid lock down.
Congenital Amusia is released in June 2021.
NHELL : Guitar, vocals, graphic design, videomaking
PAUL : Drums, backing vocals
JULIA: Staging
GUILLAUME: Bass, mastering (Studio)
THE COMIC BOOK

ILLUSTRATIONS : LEGOYA